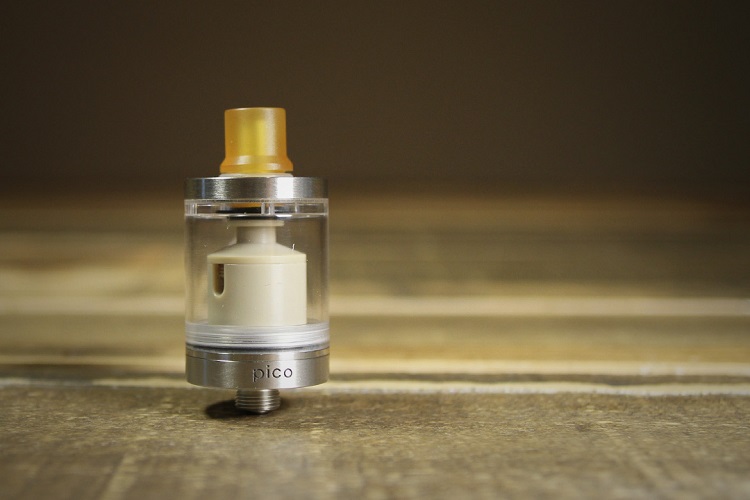 Pico RTA Clone – Review, Filling & Wicking Tips
This Pico RTA clone is a high-quality, good-looking tank perfect for Mouth-to-Lung vaping. The authentic Pico by Yellowkiss is pretty expensive ($150), so it's worth getting the Pico RTA clone just to "test" it out.
The Pico is an extremely popular flavor-chasing atomizer, with tons of accessories. It's short, and may look intimidating to build on at first. But once you get the hang of it, it's going to be your everyday go-to tank.
The Pico RTA clone specs:
22mm width, 43.5mm height
Removable stainless steel 510 drip tip
PC (Polycarbonate) tank with 3ml juice capacity
Top filling via 4 small fill holes
Dual poles design for single coil build
PEEK insulator & vaporization chamber
Adjustable airflow control, 3 air holes on the deck
510 threading connection (solid center pin)
Comes with a 510 drip tip, spare PC tank and replacements
There are many clones online, each with slightly different tank colors and driptips. You can get your hands on a good Pico RTA clone for anything between $10 – $12.
Get my recommended Pico RTA clone here, with additional adapter for the Joyetech CL rebuildable heads.
This is a good clone, great build quality, good vape, and zero issues.
Or try the Pico-S (also with the Ego CLR adapter).
The Pico-S has large topfill holes, lower wicking holes and wider dual airflow. Basically, the Pico-S fixes all the issues and concerns you might have about the original design.
Plus, the Pico-S comes with a Joyetech CLR (rebuildable head) adapter.
Pico RTA Clone Review
The parts fit perfectly, no machine oil or dirt. The box contains an extra tinted PC tank, an extra driptip, spare rubber seals and premade coils.
It took me some time to figure out how to do a build and wick it. The post screws are small, so a 28g or 26g wire would be the easiest to build with. I had dry hits when the juice leve fell below the wicking holes, so I changed my wicking style and solved that problem.
The airflow worked great, and tight enough for a Resctricted-Lung-Vape. However I think it is not tight enough for a strict Mouth-to-Lung vape.
Pico RTA Clone Problems
Right out of the box, I had no issues with the clone. I know there are many different clones out there and most seem to be discontinued after a while, but I wil make sure I update the links on this page to the most popular, currently available clone.
I was so impressed with this clone, that I might be getting a (used) authentic Pico soon, if the price is right.
Get the Pico RTA clone here at the best price.