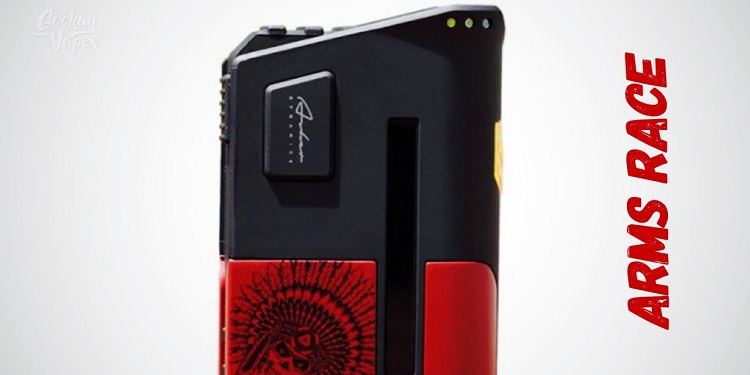 The Limitless Arms Race LMC Box Mod
If you want a powerful, large mod that hits hard and looks different, the Limitless Arms Race LMC Box Mod may be what you are looking for. It's a slightly older box mod, but still measure's up to newer ones.
Here are the basic specs for the Limitless Arms Race:
Stainless steel + titanium construction
Variable wattage: 5W-200W
Temperature control: 200'F-600'F
Support Ni200 Nickel/Titanium/Stainless Steel
Atomizer resistance range: 0.1ohm-3.0ohm
Discrete 0.91-inch OLED screen display
Flip screen option
510 threading connection
Houses dual 18650 batteries (batteries sold separately)
Micro-USB port
The unique feature of the Arms Race is the magazine-style battery tray, works just like the magazine of a gun. The top part os the Arms Race does seem ike it's going to choke the airflow for some bottom / side-airflow tanks, but if you llok closely you'll see a few holes that allow air in.
It uses a custom / propreary chipset that can fire down to 0.1 ohms.
The Limitless Arms race is a very rugged-looking box mod that may not be for everyone. I actually find the design just right. A little bit more of the "ruggedness" would be too much for me.
One con is the siqze – it might be a bit too large for most people. If you're looking for somehting portable and sleek, this is not it.