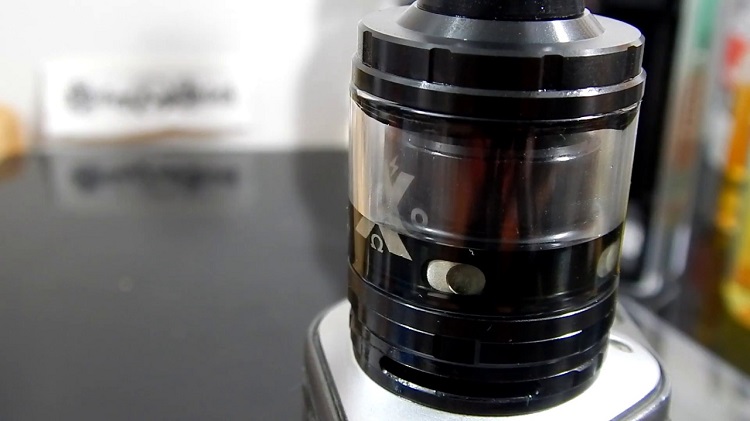 iJoy Exo RTA Review – Fantastic Value for Money
In this iJoy EXO RTA review, you can see why I was so excited to give it a perfect 10. Although I am not usually a fan of the recent super-massive sub-ohm tanks by iJoy, this one was very different.
First off, this is a rebuildable atomizer. That's always great for me because I could never fall in love with stock coils. In fact I only really enjoyed vaping when I started building my own coils.
Second, the iJoy EXO RTA is very flexible. iJoy has included an airflow reducer and extension tank to bump up the capacity, or get a tighter "restricted lung" vape. None of their other tanks have this, as far as I know.
So here are the specs for the iJoy EXO RTA:
Stainless steel body & glass tanks
Delrin wide bore drip tip, with adapter for 510 driptips
2ml juice capacity, with the extension you get 6ml
Bottom adjustable airflow control, juice flow control
24K gold-plated center pin, fully adjustable
Interchangable decks, with a single coil and dual coil deck included
26mm overall diameter
iJoy Exo RTA Review: Pros
Great build quality – The threads are smooth, glass didn't crack, o-rings didn't melt or tear, paint didn't chip. What else can you ask for?
Easy to build on – The single coil deck is really easy yo build on and wick. I've never has any leaking issues with the iJoy Exo RTA. Of course, the dual-coil Velocity-style deck is also easy to use, but I've almost always preferred the single coil.
Get a restricted lung vape – It's very important to me that the airflow be restricted, but very few tanks by Chinese companies actually do that. The airflow restrictor is similar to the Merlin Mini, and works darn well. Sure, there's only one size, but it worked out pretty well for me.
Chase clouds or flavor – I like the fact that the iJoy Exo RTA allows you to build it as a cloud-chasing tank or a flavor-chasing tank, and does both reasonably well.
Really good flavor – I was able to get good flavor with a combination of single coil, 6ml tank and airflow reducer. I still find it impressive that one tanks can let you vape any way you want to.
Excellent value for money – With a good spares kit, extension parts, spare glass and adapters, you're really getting your bang-for-buck here.
iJoy Exo RTA Review: Cons
Whistling airflow – Although I didn't mention this in the video, I will mention it as a subjective con. This is because you get the whistling only with the single coil deck and airflow reducer, AND the bottom airflow adjusted to the smallest.
It's pretty huge – Another subjective con, some people may not like the 26mm diameter of the iJoy EXO RTA. I didn't mind.
Overall, I am super stoked that iJoy sent me the iJoy Exo RTA for review.
I have to say, I probably would not have bought this myself, because I would have assumed that it was just another RTA. I'm glad I got it, and yes I would go out and buy one any day!