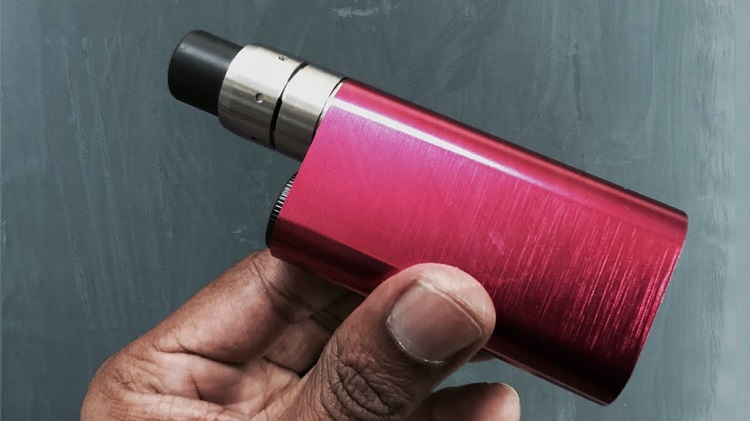 Wismec Noisy Cricket Review – Series Mech Mod!
The Wismec Noisy Cricket, true to it't name, is little mod with loads of power under the hood. It's a series mechanical mod with a hybrid connection, and the simplicity is deceiving.
In this review of the Wismec Noicy Cricket, I explain how a series mechanical mod works, and how much power you have at your disposal. Needless to say, I must issue the following warning:
WARNING: Before even attempting to use this mod, you need to understand the basics of Ohms law, battery safety and hybrid mechanical mods. This is not a toy, although it looks like one. Vape safe!
Similar to the Rig Pig, the Wismec Noisy Cricket uses a hybrid connection, but the adapter allows you to fit any 22mm atomizer with protruding 510 pin easily.
Here's the basic specs for the Wismec Noisy Cricket:
22mm width and 44mm height

Spring loaded "SMPL-style" top firing switch

6 bottom ventilation holes

Hybrid connection with 510 adapter

Brass contacts

Powered by dual 18650 batteries

Comes in black, silver, red, blue
Yup.. it's a simple device.
Wismec Noisy Cricket Pros
Here's what I loved about the Wismec Noisy Cricket:
Solid construction and feels good in my hands

The firing switch works perfectly, and is easy to unscrew

No battery rattle, thanks to the balancing bar at the bottom

The price is unbelievable for an authentic mod – it's cheaper than

the Rig Pig

clone I reviewed

Lots of power for huge clouds, if you can get the build / Ohms just right for a device like this
Wismec Noisy Cricket Cons
The list of cons is not long, but here are some:
I don't think the color descriptions are accurate – my "red" mod actually looks maroon (or pink!) under almost all types of lighting conditions

Zero safety information in the box, which I think is irresponsible
It's easy to see why the Wismec Noisy Cricket is so popular. The version 2 of the Noisy Cricket is nothing like the original, so I can foresee this tiny mechanical mods being popular and even overshadowing the version 2 for some time to come.
I'm happy I got it, and it's going to be in my collection forever.
I will do a follow-up video n how to build for a series mechanical mod in the future, as the biggest challenge you're going to have with this mod is putting in a build that can control the enormous power it outputs!