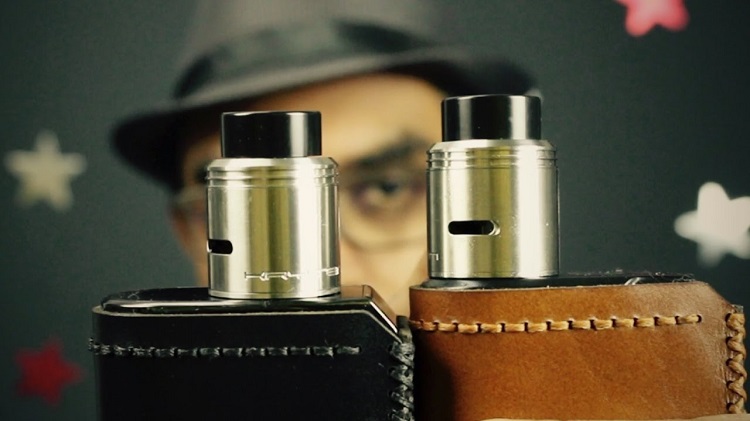 SXK Kryten Clone Vs Authentic Psyclone Mods Kryten
The Kryten is one of the most popular RDAs around right now, and it's not surprising to find that the SXK Kryten clone followed in hot pursuit. In fact the SXK Kryten clone was available within two weeks of the authentic Kryten.
How? I seriously do not know, but something is definitely going on with the clones.
This clone cost $16, while the authentic Kryten by Psyclone Mods cost about $70. There are also other clones out there, but I have this one and it has tons of great reviews on sites like Fasttech.
So I'm going to call this the best Kryten clone, and show you how close it comes to the authentic Kryten.
The clone comes in simple, generic packaging instead of trying to imitate the authentic packaging. No machine oil or other residue.
SXK Kryten Clone: Pros
Fantastic build quality –

As you can see in the video, the build quality is on par with the authentic.

Solid o-rings –

The silicone seals are just the right size and thickness. When you put the airflow cap, you get that nice clicking sounds when it snaps into place.

Close to the authentic –

SXK did take some liberties to make their center pins, including the squonk pin, gold-plated. The authentic is stainless steel.

Authentic accessories fit –

The ultem cap or other caps from the authentic should fit perfectly on the SXK Kryten clone.

Resin driptip included –

You get a 810 (Goon size) driptip made of out epoxy resin, random colors, included.
SXK Kryten Clone: Cons
Slightly smaller screws –

Slightly smaller that the authentic, I do not think this will be an issue as long as it can hold the clamps down securely.
SXK Kryten Clone vs Authentic
I didn't notice any difference in terms of flavor, airflow or vapor production. If the gold-plated center pin made any difference, I could not tell. Other than the slightly different fonts used for the lettering on this RDA, you probably cannot tell it apart from the authentic Kryten RDA.
Overall, its damn good clone. The squonking pin, resin driptip and good o-rings earns this a place in my top vape clones list.