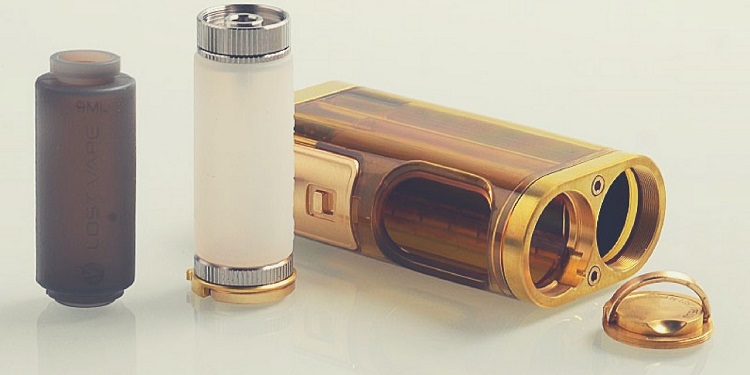 LostVape Furyan – High-End Looks on Affordable Squonk Mod?
I'm still waiting for this to arrive, but I think LostVape has done a fantastic job with this. The Lostvape Furyan is their latest squonk mod, with the last mod they released, the Therion, now considered "old".
Unlike the Therion BF which is a regulated DNA75C squonk mod, the Furyan is a pure mechanical mod. Here are the specs:
Polycabonate / PEI body with carbon fiber tube
Easy access to locking toggle switch at the front
Compatible with 18650 / 20700 / 21700 high-drain batteries
Supports minimum resistance of 0.1Ohm
Spring-loaded 510 connector, stainless steel
Silver-plated copper contacts for a better conductivity
First off, this is way better looking than the Therion. Sure, the Therion wasn't ugly by any means but it is pretty large for a single 18650 mod. I have 20700 DNA75C mods that are more compact than the Therion, and 18650 ones that are smaller still.
With the Furyan, they decided to go a different route.
I'm sure some people in Lostvape have a keen eye for designs used in the high-end segment of squonking, because the Furyan could easily be mistaken for a high-end squonker.
At the moment, you can get it in either the PEI/ brass or black/ stainless steel setups. Although I am not a fan of Ultem, the combination of Ultem and brass actually works.
Plus, this mod can be disassembled pretty easily for cleaning the contacts. So far, from the reviews I have seen the Furyan looks to be pretty well thought-out. My only gripe is that the ultem is polished instead of amber, which I prefer.
I really hope to see more variations of the Lostvape Furyan in the near future. Gearbest is selling them at about $89 for the Ultem / PEI version, and you can occasionally find discounts on the website.
If you would like to see my review on the Lostvape Furyan, do let me know.