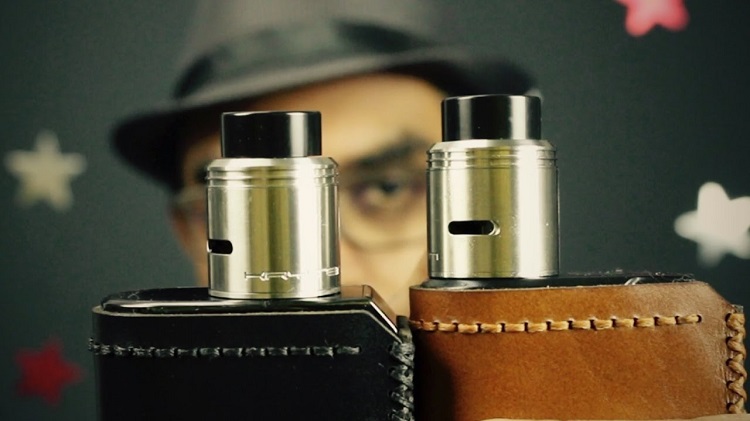 Goon Vs Kryten: The RDA Battle
In this video I have some fun comparing the Goon RDA to the Kryten RDA! It's not a full review on either one, but I thought it would be interesting to see the similarities and differences between the two.
In this video I compare the Goon 24mm copper with the Kryten, both authentic. However, you can get a Goon clone or a Kryten clone if you're turned on by this video but cannot afford them.
The Goon RDA by 528 Customs
The Goon is on the shelf of every vaper I know. Whether it's the 24mm or 22mm version, they definitely got a few things right with this RDA.
24mm Diameter
6mm Juice Well
Superior Stainless Steel Construction
InnovativeTwo-Post Bridge Clamp Design
Gold-Plated Bridge Post
Gold-Plated Bridge Clamp
PEEK Insulators
Replaceable Positive and Negative Bridges
9mm Delrin Widebore Drip Tip
Adjustable Airflow Control
Triple Airslot on Each Side
Unique Serialized Number
Copper-Plated 510 Connection
The Kryten RDA by Psyclone Mods
The Kryten follows the phenomenal success of the Hadaly RDA. Psyclone Mods was able to ride its wave of popularity when they launched this, and its a damn good RDA.
24mm Diameter
7mm Deep Juice Well
Superior Stainless Steel Construction
Spacious Build Deck Design
Innovative Staggered Two-Post Design
Shelf-Style Terminals for Coil Leads
Top-Secured via Flathead Screws
Spring-Loaded Clamps for Easier Set-Up
PEEK Insulator
Precision-Cut Horizontal Oval Airholes
Direct-to-Coil Chamber Effect
15mm Wide Delrin Widebore Drip Tip
11mm Wide Delrin Widebore Drip Tip
GOON/Kennedy Drip Tip Compatible – Not Included
Optional Squonk 510 Pin
Stainless Steel 510 Connection
Goon Vs Kryten: The Verdict
Build quality – Both atomizers have great build quality, but I think the Goon has a slight edge here.
Performance – The Goon with its copper center pin give me slightly quicker firing that the Kryten with its stainless steel center pin.
Building & wicking – I have to give this one to the Goon. The Kryten has a steeper learning curve for building and wicking, mostly dues to the posts being so far to the edge. With some practice you will be able to get it right.
Squonking – The Goon is squonk-able, but only with the bottom-feeding pin which is sold separately. The Hadaly comes with a squonk pin that works perfectly well, so the Kryten takes this one home. Its one of the top squonk atomizers I have on my list.
Airflow & flavor – The airflow is slightly better on the Goon at the half-open setting. Wide open, I noticed almost no difference between the two.
Clouds – Both can give you clouds, bro.
In my opinion, the winner is the Goon RDA. It is without doubt the best 24mm RDA I own. I have yet to try the 22mm version but I'm sure that will be crazy good as well.
The Kryten is solid, but I just wish the build deck as a bit more easier to work with. Of course, you're not going to put a build in here every day, and you can always find tutorials online that teach you how to build on it.